Child Sponsor Yemen

Yemen, with its population of 29.83 million (2020), is located at the southern end of the Arabian Peninsula with Saudi Arabia to its north, Oman to its east and the Red Sea, Gulf of Aden and the Arabian Sea providing its coastal borders. It is the poorest country in the Arab world and has been in conflict since 2004 as a result of the unification of North and South Yemen in 1994. Yemen is in 179th place out of 189 countries and territories in 2019 when ranked in terms of life expectancy, literacy, access to knowledge and the living standards of a country with a life expectancy of 66.12 years (2019) however life there for children in particular is frankly miserable.

The long term conflict in the country has affected most of them and many have had their homes destroyed. Children aged 15yrs or younger make up nearly half of Yemen's population and many children in the north suffer from malaria, diarrhoea and other illnesses and overall half of all children in Yemen suffer from malnutrition. On a daily basis aircraft and drones fly overhead as the Yemeni and US governments carry out airstrikes against suspected al-Qaeda operatives, allegedly killing more civilians, including children, than militants.

Ten million people go without enough food to eat and just over half have access to safe water supplies, with those supplies expected to run dry within five years. School enrolment is the lowest in the Arab world although there have been slight improvement of late. The situation for girls in Yemen is even more worrying as they traditionally marry very young with fifteen being the normal marrying age, although some girls as young as eight have been married. Clearly this leaves them open to exploitation. As if that all intolerable by itself, the humanitarian crisis there is becoming even more acute. You can can help when you sponsor a child in Yemen or donate to one of the many appeals currenly being shared.
---
Child Sponsor Yemen: Saba Relief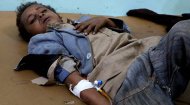 When you sponsor a child in Yemen with Saba Relief your committment will be a real lifeline for a child in need as the orphans the organisation assists are from poor families in the country who can't afford basic nutritious food.
---
Child Sponsor Yemen: Mercy Relief



For orphans in Yemen, every day is a bitter struggle for survival. Most are homeless, hungry, alone, and constantly vulnerable to abuse and exploitation. When you sponsor a child in Yemen with Mercy Relief you will ensure a child has food, clothes, medical care and clean water, giving them the opportunity to have a better future.
---
---
Child Sponsor Yemen: One Nation



Right now, millions of people in Yemen are on the verge of starvation. Deadly clashes have left tens of thousands dead and even more displaced. A famine described as the worst the world has seen in 100 years looms over a country torn apart by war. Sponsor an orphan in Yemen with One Nation and give them an opportunity of a future filled with hope and prosperity.
---
Child Sponsor Yemen: The Yemen Project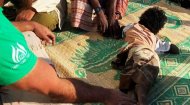 Not actually a child sponsor program for children in Yemen but working in Yemen setting up projects to help the poor people of Yemen such as bakeries, wells, mMosques, and distributing meals and food packs throughout the country as it endures a humanitarian crisis where every 10 minutes a child is losing His/Her life due to severe starvation, hunger and malnutrition.
---
---