Child Sponsor Haiti

Haiti, with its population of 11.4 million (2020), is the poorest country in the western world following decades of conflict, political instability and the ravaging of the island by humans with an estimated 98% of the country's forests being destroyed leading to the wasting of farmland and increasing desertification. Haiti is in 170th place out of 189 countries and territories in 2019 when ranked in terms of life expectancy, literacy, access to knowledge and the living standards of a country with a life expectancy of 64 years (2019). Access to electricity is around 72% in urban areas but drops to just 15% (where approximately 53% of the population reside growing sugar cane, cassava, mangoes/guavas, plantains, bananas, yams, avocados, maize, rice, vegetables). Only 24% of Haiti's population has access to a toilet and the majority of the country's population does not have access to potable water leading to sickness and death. In fact, 80% of all diseases in Haiti are waterborne in a country where, in 2019, the child mortality rate (under fives) was 62.8 deaths per 1,000 live births.

Many will recall the devastating earthquate of 2010 that killed 200,000 people causing $7.8 – $8.5 billion worth of damage in a country where 24.7% live in extreme poverty (less than $1.25 per day) and 59% live on less than $2 a day. Seven years after the catastrophe In 2017, the United Nations reported that 2.5 million Haitians were still in need of humanitarian aid with its Humanitarian Coordinator stating "There are still about 55,000 people in camps and makeshift camps. Many are still living in unsanitary conditions due to displacement caused by the earthquake. We have a very long way to go." Doubtlessly this was, in part at least, due to the fact that pledges of $1.7b only realised $600 in aid. 11% of the entire population of the capital Port au Prince were killed in the tragedy and one and a half million were displaced. Half of all Haiti schools were destroyed in the earthquake along with all of the country's three universities. Although that event was now over a decade ago, even before it occured, thousands of Haitian children were orphaned or abandoned by their parents with an estimated 440,000 children growing up without parental care. With 200,000 dead from the earthquake that number rose exponentially and many of those infants are still only teenagers or young adults today.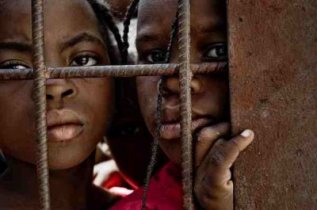 This in a country where hundreds of thousands of children already worked in conditions similar to slavery with many engaged as domestics for wealthier families where they are frequently abused even having to sleep outdoors using cardboard for bedding. Other chidlren populate the roads selling wares, shining shoes or worse in a country where the literacy rate is about 61% (64.3% for males and 57.3% for females), significantly below the 90% average rate for Latin American and Caribbean countries. This is probably because around 375,000 children between the ages of 6 and 11 (one-third of this group) are not in school and few children ever complete their seconday education. Child sponsor programs in Haiti are as basic as simply trying to rebuild lives, providing shelter, food, substitute parental care, access to medical care and, where possible, supporting young people in attending school. You can help when you sponsor a child in Haiti.
---
Child Sponsor Haiti: SOS Children's Villages



With SOS Children, you can help orphaned and abandoned children when you sponsor a child in Haiti.
---
Child Sponsor Haiti: Hope for Haiti's Children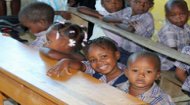 When you sponsor a child in Haiti with Hope for Haiti's Children you are helping to lift a child out of poverty and providing them the hope of a better life. Your sponsorship pledge benefits more than just your child; it benefits the child's family and strengthens their school, church, and community.
---
Child Sponsor Haiti: Haiti Child Sponsorship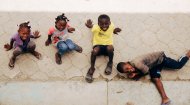 Another locally run project in Haiti where, as a child sponsor, you will receive a photograph and information about your child and can visit.
---
---
Child Sponsor Haiti: Bold Hope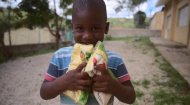 Bold Hope believes each child is fundamentally deserving of health, education, and safety. Child sponsorship makes a lasting impact on not only each individual sponsored child, but on their entire family.
---
Child Sponsor Haiti: Haiti Foundation Against Poverty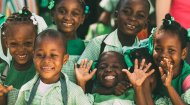 Either sponsor an abandoned or malnourished child living at Hope House or a student to provide tuition, school supplies, school books, and a uniform. The Haiti Foundation Against Poverty believe those sponsored children consider their sponsors to be their godparents because of the important investment they make in their lives.
---
Child Sponsor Haiti: The Haiti Collective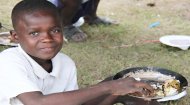 The child you sponsor will receive a uniform for school, books and school supplies, access to medical care, nutritious meals, and shelter. A portion of your sponsorship will be used to pay for teachers and educational resources to provide education for your sponsored child as well as the larger group of children.
---
---
Child Sponsor Haiti: For You Haiti



For You Haiti's child sponsor program focuses on children living in La Gonave, Haiti, with families that have little to no annual income. The program provides direct support which may include items such as: food, diapers, water, milk, bedding, education and medical assistance on a monthly basis. Your monthly donation is not a hand out for these families, but rather an investment in their future, allowing families to make long-term decisions that benefit, not only your sponsor child, but their family and the community around them.
---
Child Sponsor Haiti: New Life for Haiti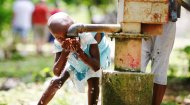 When you sponsor a child through New Life for Haiti's School Sponsorship program that child will receive the opportunity to go to school and learn. He/she will also receive: vitamins, meals on some days, 2 pairs of shoes annually, school uniforms, books, supplies, and medical help for any serious injury or illness. In addition to all of this, you get the opportunity to build a relationship with your child. You will receive a photo card showing their picture and information about their life and the village they live in. Each year you will receive an updated picture.
---
---
Child Sponsor Haiti: Chairita Pro Haiti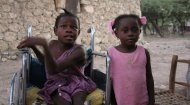 This child sponsor program includes children from the poorest families that cannot attend school due to the financial reasons and includes school fees, school necessities, mandatory school uniform, one warm meal a day and a contribution to teacher's wages. They aupport children to access education in three schools – Baie de Henne, Gonaïves and Roche-a-Bateau.
---
Child Sponsor Haiti: Haiti Children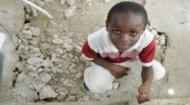 A short video documentary together with facts and figures about children living in Haiti and the challenges they face.
---
---