Sponsor a Child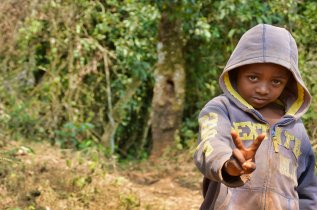 www.child-sponsorship.com is a directory and information portal about how to sponsor a child in need in conflict zones and developing countries including details of sponsor a child programs, pojects and organizations. Get listed here for free. The aim of this site is to raise awareness of children's lives across the globe and to explore how to sponsoring can make a meaningful difference to young lives by lifting them out of poverty so they can embrace a more positive future. We have a focus on "on the ground" organizations and sponsor programs as well as publicising details of the latest child emergency appeals from around the globe.

There are many ways to make a difference at www.child-sponsorship.com however to actually sponsor a child is one of the most rewarding. Gone are the days when the idea of becoming a sponsor to a child meant that one child is a village was selected to benefit from 'western' money. That's all changed now. Today, when you sponsor a child, you are not only making a difference to that child, but also to his or her community as well, as some of the help goes directly to the young person, but within the context of where he or she lives. So, when you sponsor a child, where does your money go and how much does it cost? Your money goes on ensuring the young person receives heath care and education that will take them through to adulthood with the necessary skills and knowledge to be self-sustaining and with the health to ensure they can provide for themselves, their family and community. And the cost? Often as little as just 50p a day, the price of a newspaper.

People often ask themselves, 'If I sponsor a child, will it make a real difference?' Consider this. There was a doctor who helped others who were victims of the Bali bombing and, being one of the first on the scene, was able to save the lives of many. It turned out he had been a sponsored child and, without the help of someone like yourself, would never have had the opportunity to train to be a doctor and save others. Makes you think, doesn't it? And remember, all those images on the television about starving children are stereotypical (though often true). Most of these kids, however poor, have a cracking sense of humour and have aspirations for a better life. Without you that's probably beyond their reach so your sponsorship will make a real and meaningful difference practically overnight and the child/ren you sponsor will be deeply appreciative that you have come into their lives and opened doors for them such as giving them an education that will help them make the most of their own future. They may never meet you, though they could, but they know in their hearts you are there for them helping them to secure a better future.

Please note that in the twelve years we have been online, we promote child sponsor programs and opportunities regardless of race, religion or creed but purely based on children's needs.
---